Short sea shipping has a relatively long history but now it became actual again, more than ever. The reason is obvious, Brexit and the significant issue it brought to road freight services between the UK, Ireland and the EU. At Maurice Ward Group we offer daily fixed short sea and feeder transport to and from many destinations in Europe, UK and Ireland, ensuring that your goods reliably reach their final destination. The ideal answer to Brexit!
The solution is to use strong and existing transport network between UK, Ireland and pan Europe. Many roads hereby lead to the port of Rotterdam. The many shortsea and feeder connections in this port prove this. More than 200 shortsea destinations can be reached from Rotterdam in the United Kingdom and Ireland. Our specialized team in Czech Republic knows each 'continent' well through years of experience in international sea transport so we can quickly reach any destination in the world.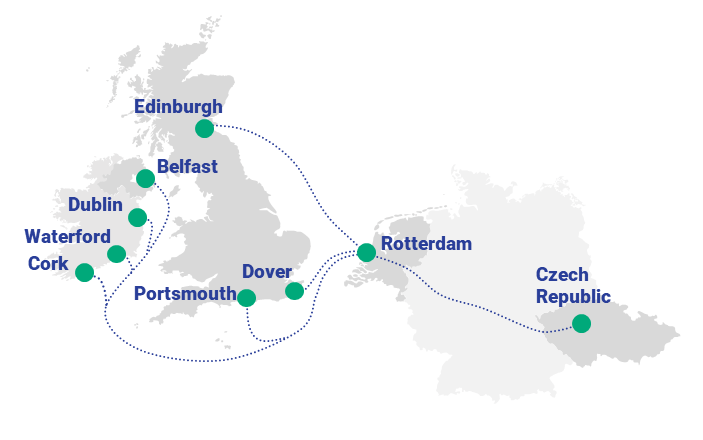 40+ owned offices in 25+ European countries and a broad agent network, we have the flexibility and the possibilities to offer you a one-stop package. We offer fully multimodal door-to-door solutions, a combination of short sea with rail and road if needed. Key points such as safety, transit time and costs are furthermore at forefront. Take advantage of fixed sailing dates, advantageous prices and our unique customs solutions. Moreover, with short sea shipping, you contribute to sustainable transport and CO2 reduction, as this is the most environmentally friendly solution for many destinations.
Do you want to know what your shipping container from Ireland is going to cost you? Or do you have some pallets to transport to UK? You are at the right address with us! We provide quality service, flexible, reliable and cost-effective solutions. Our customers can count on our support during this tough period. 
The first ever 'cargo only' flight was recorded in November 1910 in the USA, using a Wright Model B aeroplane that flew 65 miles carrying a package of silk. The business owner used the pioneering transport more as a PR stunt to celebrate the opening of his store, with the bundle of silk cut into individual pieces and glued onto souvenir postcards.