The coronavirus continues causing large distortion and delay in the transportation of goods as many countries in Europe are again seeing a resurgence in COVID-19 cases and therefore are forced to go in another total lockdown. Ports and airports continue operating at half strength due to a shortage of personnel but also due to a limited supply of goods. Shipping companies have cancelled several crossings and there is a shortage of containers. The damage and the backlog caused by the virus and quarantine measures are remaining large.
Your shipments are in transit and you need a shelter while shuttered factories in Europe are closed? We are here to help! Our teams at Maurice Ward Group continue carrying out their duty by offering storage spaces during lockdown, now, and if needed, also in the future.
Support to help you come back strong
Maurice Ward Group teams have continued working by supplying, storing and offering warehousing solutions to our partners and customers even throughout this second wave of COVID-19 pandemic. Especially during this period of COVID-19, you need to find the best company that will solve all your storing problems easily.
Let's work together on your get-back-to-business plan
Maurice Ward Group has the capacity to store your cargo in transit. With an area of 200.000 SQM in Europe, MWG is active in 8 European countries and has a network of reliable partners in almost every European country. Moreover, all our warehouses have 24/7/365 monitored security, security fences along with perimeter and our facilities are fire-protected. We also maintain proactive pest control and sanitation program. In terms of our tech and chemical grade material, we can handle consumer goods, both powders and liquids and utilize racking for small containers and bags to maximize storage space that are available all over Europe.
To help you choose the best warehousing and storage solutions for your get-back-to-business plan, we are introducing some of our biggest warehouses, in Plzeň, Brno and Bratislava.
Located on one of the most prominent and advantageous sites in Plzeň, Maurice Ward Group offers 60.000 SQM ft of A class warehousing space, shelter to facilitate the loading and unloading process for a diverse fleet of vehicles. This allows occupiers to transport cargo in and out of the warehouse using larger double-deck trucks, as well as standard sized heavy goods vehicles for optimum operational efficiency.
Moreover, usage of different types of storage equipment, standard racks, cantilever racks and special handling equipment gives us multiple options and no limits of size or weight of products we can handle. Consequently, we can store, pick and ship all different kind of products starting from little screws up to 3 ton and 4 m long pallets. We can handle ULD pallets, storage of high value goods in locked areas and a specific area of building crates for big refrigeration units upon request within a couple of hours.

Provided services include:
CCTV Surveillance
Sprinkler system, temperature & humidity control
Value added services
Vendor Managed Inventory
Just-In-Time services
Kanban operations
Our proprietary WMS (ULMS) links directly to all major MRP/ ERP systems
On-line access to WMS
Daily reporting
KPI reporting
The warehouse in Brno has an area of 10.000 SQM ft, with various customers in automotive and electronics industries. The goods are stored both in free circulation and in bonded warehouse.
Smart and effective logistics solutions
We provide services for outstanding companies like Ford, BMW, Citroen, Nissan, WV and Skoda. This is why the accuracy of each logistics process is important for us. Thus, Brno warehouse is flexible and we provide specific services to each customer, with 99% KPI.
By using sophisticated technology and our long-term experience with storage and handling of goods, we store about 5,500 pallets and handle 3000 picks per day. As for the goods, they are manipulated with a systematic forklift. We use our own WMS = ULMS, which is modified based on customer's demand. Moreover, dispatched orders can go all over the world.
 We store goods for 5 big customers and about 40 of their vendors, usually in the VMI regime. Customers send us goods in both FC and in a bonded warehouse. In addition to dealing with very difficult and specific demands, mainly when it comes to tracking pcs., we also accept goods based on MPQ and pull them out per boxes and pallets. Furthermore, our systems are electronically connected to the customers.
In Bratislava, we provide bonded and non-bonded warehouses to our customers. With an area of 2500 SQM and flexi space, we have customers from electronics and pharmacy branches. At the beginning of this year we have also managed to start a cooperation with Xingda International Holdings Ltd, manufacturer and distributer of radial tire cords and bead wires. One of our other customers in automotive industry is Continental, develops pioneering technologies and services for sustainable and connected mobility of people and their goods.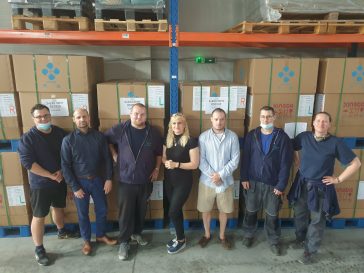 At Maurice Ward Group you will have the opportunity to increase the overall efficiency, safety and security of your supply chain operations. Are you ready to get back to business? Contact our warehouse space management team for the best warehousing solutions for your business!
In times of need our teams support non-profits to help out our communities. Since the beginning of the pandemic, we have delivered personal protective equipment and critical supplies to several organizations. Find out more by clicking here 'Our response to COVID-19'.
Click here to find out more about Štěnovice​ warehousing​ building process.
The first ever 'cargo only' flight was recorded in November 1910 in the USA, using a Wright Model B aeroplane that flew 65 miles carrying a package of silk. The business owner used the pioneering transport more as a PR stunt to celebrate the opening of his store, with the bundle of silk cut into individual pieces and glued onto souvenir postcards.